Public Health in Medical Mission Settings
Get a solid foundation for some of the most common focuses for medical mission and development aid work.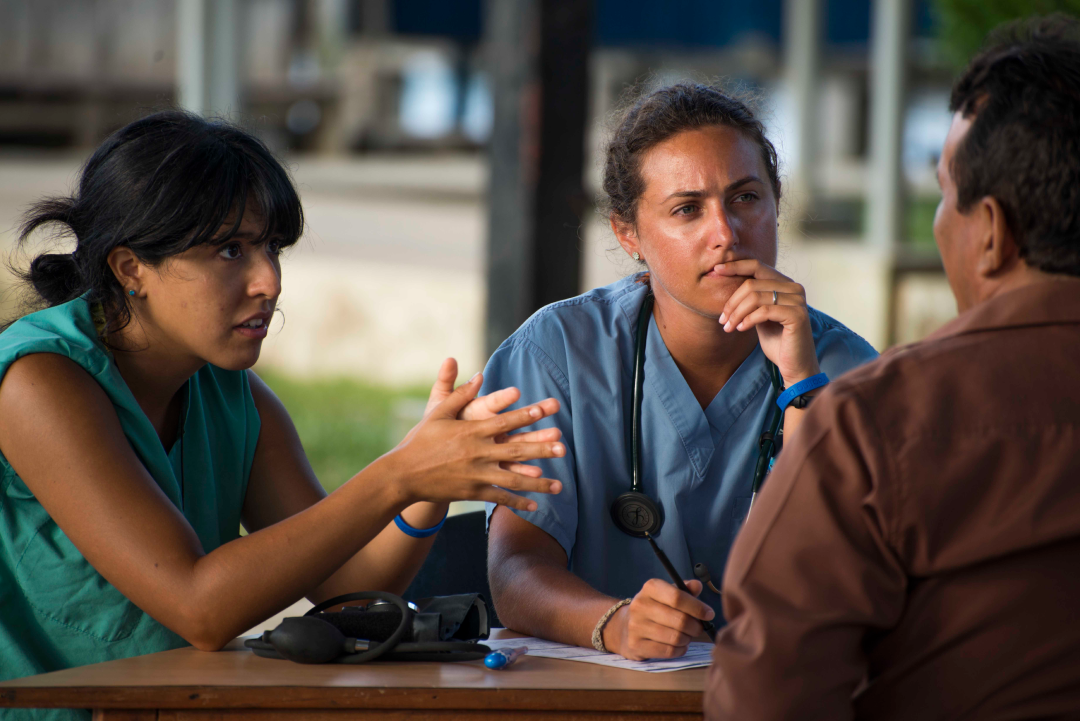 Discount
Approx. 9% Discount
for course bundle
Credits
7
AMA PRA Category 1 Credits™
Course Duration
26 to 70 minutes per lesson
6 hours and 2 minutes total
Instructors
Dr. Benjamin LaBrot
Dr. George LaBrot

Learn how to handle public health issues during medical missions
This course covers core global public health issues such as Diarrheal Disease, Dental/Ophthalmology, Nutrition, Mental Health and Care of the Elderly/Palliative Care. These fields provide a solid background not only for specialists, but especially for non-specialists to improve their ability to contribute to these kinds of missions. This also includes our introduction to medico-legal and ethical guidance for safely and effectively planning and working in these fields
The Wilderness Medical Society designates this enduring material for a maximum of 7 AMA PRA Category 1 Credits™. Physicians should claim only the credit commensurate with the extent of their participation in the Activity.

ACCME Accreditation Statement:
This activity has been planned and implemented in accordance with the accreditation requirements and policies of the Accreditation Council for Continuing Medical Education (ACCME) through the joint providership of Wilderness Medical Society and RemoteCare Education. The Wilderness Medical Society is accredited by the ACCME to provide continuing medical education for physicians.


All education content presented in this activity has been reviewed and validated as appropriate in keeping with sound scientific principles.
Automatic discount for 7-lesson bundle

Unlimited, perpetual access to video lectures

Excellent source of engaging CME lessons for medical license renewal



Medico-Legal Aspects of Mission Work | 70 minutes
Explore the complex medico-legal considerations surrounding mission work in developing regions. Learn how to avoid placing you or your team in legal trouble while far from home, how to license and ensure the security of your team, and how to make best-practice decisions in resource limited settings. Also review the ethical considerations for mission work and handling medical errors. Participants should develop an appropriate ethical framework to guide their behavior during medical aid work, reduce their liability on missions, ensure better informed consent, and work more smoothly with local services.
Diarrheal Disease Fundamentals for Resource-Limited Settings | 52 minutes
This ubiquitous medical mission issue receives special attention. Common causes are reviewed, with an emphasis on pattern recognition and clinical diagnosis, common causes, dehydration, public health and primary prevention. Management strategies in remote settings are included, as well as regional barriers and strategies for larger scale interventions. Participants should gain confidence and competence recognizing and managing diarrheal presentations in remote or resource-limited settings.
Infectious Disease in Underserved Regions | 26 minutes
An overview of common infectious disease fundamentals in resource-limited settings and a review of conditions that may be rare in developed nations but commonly encountered in medical aid settings, with an emphasis on clinical diagnoses. Participants should gain confidence approaching the diagnosis and treatment of a variety of specific infectious disease issues.
Ophthalmology & Dental Care | 56 minutes
An overview of ophthalmology and dental burden in mission settings, and empiric approaches to these issues in rural primary care. Ophthalmology and oral health indicators for clinical diagnosis of systemic disease, ocular parasites in developing regions, visual assessment algorithms, managing squints, and ophthalmologic exam as a clinical indicator for HIV status are included. Special dental considerations for developing region aid work are also discussed. Participants should gain confidence and competence at managing ophthalmologic and oral health issues in unfamiliar, resource-limited settings and improve their effectiveness on mission trips.
Review of the principles of nutrition in health care applications, especially as applied to resource-limited settings and the non-medical management of chronic disease. Includes a review of common mal-nutritive conditions encountered in mission settings and the barriers to nutrition in developing regions. Participants gain competence assessing acute and chronic nutritional status in resource-limited populations, recognizing and managing nutritional deficiencies, and utilizing recourse-limited nutritional knowledge to improve patient outcomes.
Mental Health in Resource-Limited Settings | 65 minutes
A summary of mental health in mission settings. Burdens of mental illness in the developing world are highlighted, as well as common barriers to effective care. Specific mental health conditions common to mission settings are reviewed, as well as conditions that require different approaches in resource-limited settings. Participants should gain increased confidence and competence approaching mental health issues in tropical and developing settings.
Geriatrics and End of Life Care | 56 minutes
The burden of geriatric conditions in developing regions is reviewed, and a resource-limited approach to geriatric and end-of-life care is discussed. Non-pharmaceutical strategies, especially for palliative care, are emphasized. Handling of patient deaths in different cultural contexts is included. Participants should gain greater awareness of the scope of approaches to geriatric and end-of-life issues in mission settings.
Dr. Benjamin LaBrot
Dr. Benjamin LaBrot is a career medical missionary and the founder of the Floating Doctors medical team, specializing in sustainable health access improvements in challenging rural environments. He received his medical training at the Royal College of Surgeons in Ireland, and practiced for many years in the Irish Health Care System, where he assisted in setting up a long-term care elderly facility. (Ben or Dr. LaBrot) currently splits his time working with Floating Doctors and teaching as a Clinical Assistant Professor of Medical Education at the Keck School of Medicine of the University of Southern California.
Dr. George LaBrot
Dr. LaBrot is a patient-centered physician who values the long-term relationships he has established with so many patients over the years. He has a broad range of medical knowledge, having been Board Certified four times in Internal Medicine, Pulmonary Disease, Critical Care and Sleep Medicine. Dr. Labrot earned his medical degree from the University of Illinois at Chicago College of Medicine. He has traveled the world treating patients in resource limited areas of the world, including working with Mother Teresa in Calcutta, India. He is a popular lecturer for the University of Minnesota biannual CME program in Delivery of Medical Care in Resource Poor Areas.
Secure Checkout
The information in this page is being processed and encrypted securely using industry-leading encryption and fraud prevention tools.
Created with