Earn CME credits while
making a difference
Experience our Orientation to International Aid Work course in-person while you live and work along side the Floating Doctors team providing much-needed health clinics in Bocas Del Toro, Panama. The Wilderness Medical Society designates this enduring material for a maximum of 51 AMA PRA Category 1 Credits™.
Our next Live Course starts on March 10, 2024 in...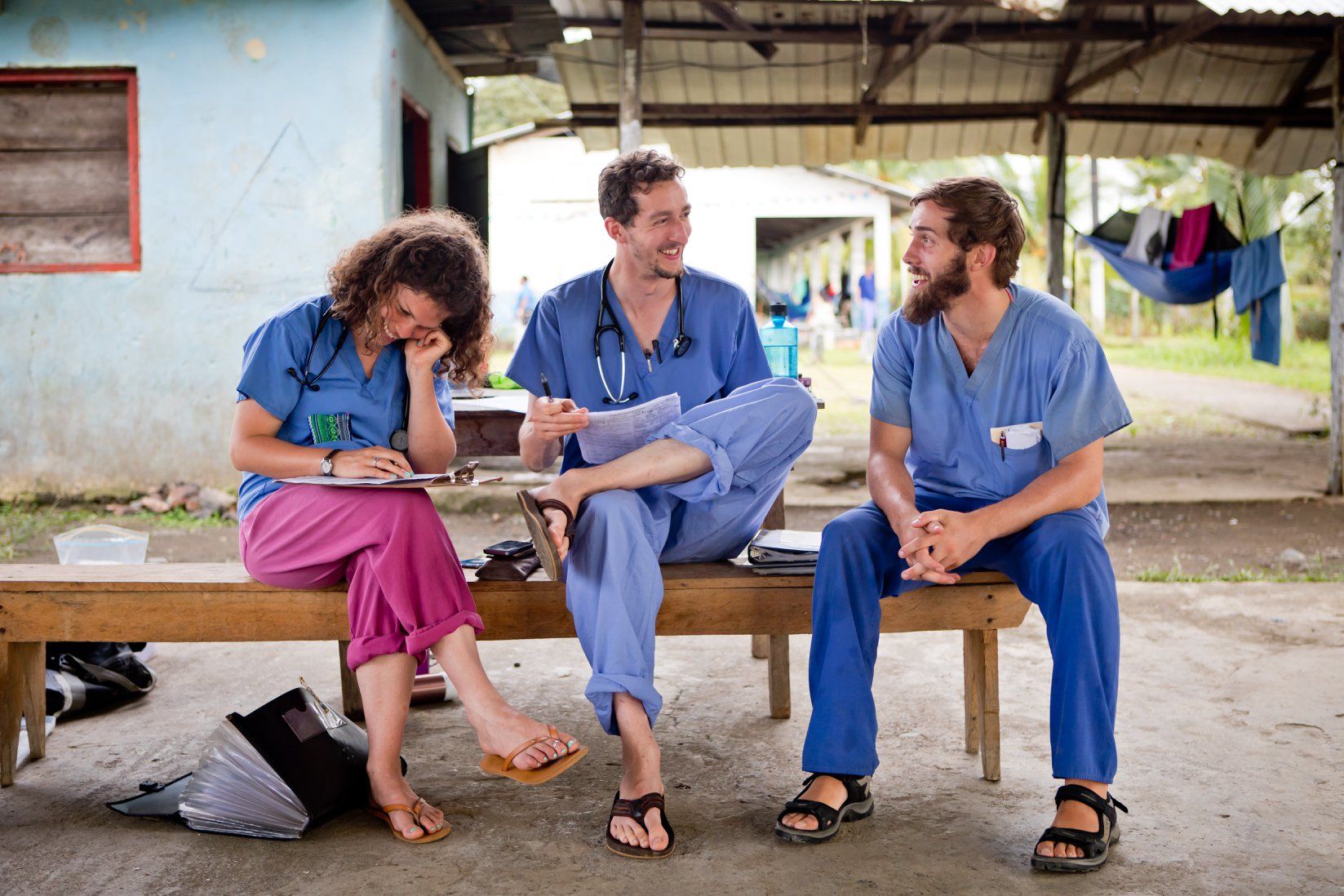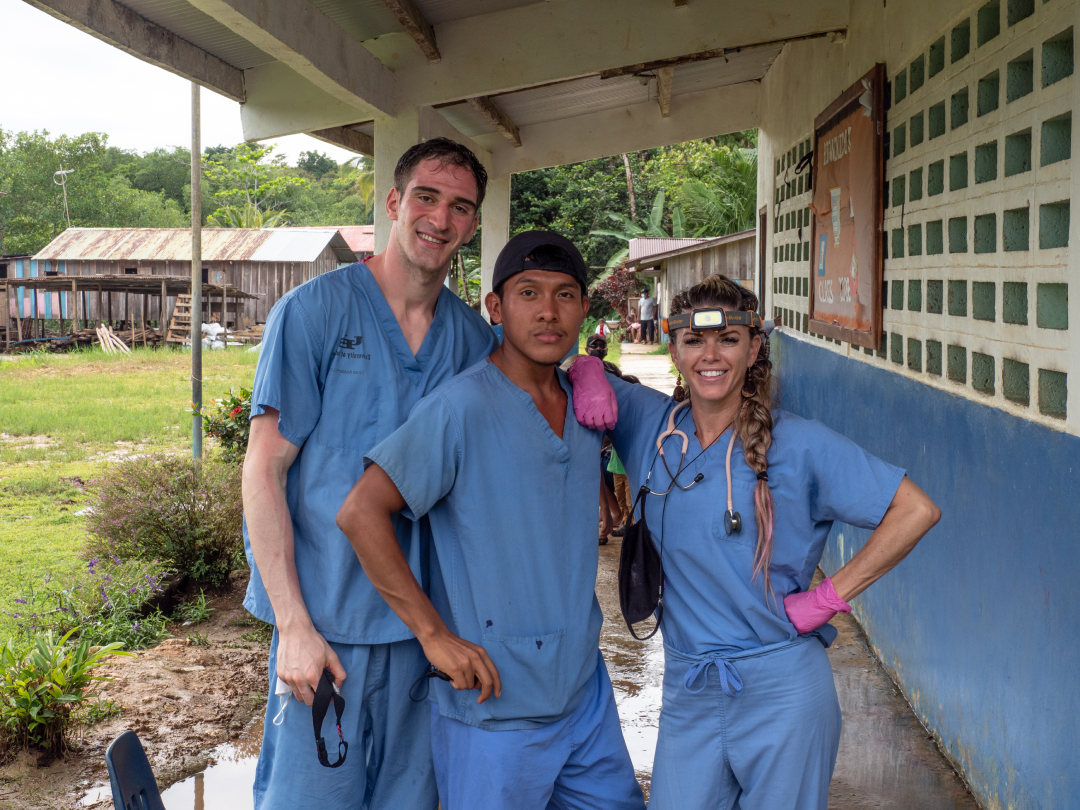 Bocas Del Toro Clinical Deployment

In partnership with Floating Doctors, we offer a comprehensive one-week immersion course that combines didactic and interactive CME coursework with real-world clinical deployments to more than 25 remote communities around the Floating Doctors basecamp on Isla San Cristobal. This immersive CME experience is ideal for:
Medical practitioners across all specialties who are interested in participating in international aid work.



Experienced international medical volunteers looking to sharpen skillsets in tropical settings.



First-responders and preparedness enthusiasts who want to develop their remote medical care skills.
Floating Doctors
Clinical Deployment Snapshot
$2200 USD (includes accommodation, meals, and all course activities). Travel to and from participants' home countries not included.
First you must enroll in the 'Orientation to International Medical Aid Work' live course through this site. Our course coordinator will then contact you to facilitate your registration with
Floating Doctors
.
Participants stay at the Floating Doctors base on Isla San Cristobal, a 25-minute boat ride from the town of Bocas del Toro on Isla Colon. FDs' headquarters is an off-the-grid remote facility located on a mangrove island, relying on solar power, rain catchment and filtration, and biotreatment of waste. Sleeping accommodations include fans, mosquito nets and single beds in 4-bed rooms in their dormitory; teams will deploy by boat from the FD base for the live mobile clinic portions of the course. FD asks participants to please remember that these are accommodations built and maintained with much struggle against an unforgiving environment; their headquarters is a working medical support base built for the purpose of delivering health care to remote jungle communities.
We ask that participants be adaptable and enjoy the adventure of living off the grid, and the sight of glowing bioluminescence at night, the occasional visiting sloth, or flocks of parrots returning home overhead at the end of the day–it is, in short, a wonderful backdrop for learning the skills of humanitarian medicine. The mangroves and the jungle are beautiful, especially at night, and swimming or snorkeling off the dock in the warm tropical water is a great way to cool off at the end of the day.
Create your own adventures in Bocas del Toro. Meander along Starfish Beach, plunge beneath the waves on a scuba diving expedition, try your hand at surfing on the rolling Caribbean waves, or embark on a tranquil sailing journey across the gleaming sea. Explore the art of chocolate making at local cacao farms and as the day fades, dive into the island's unique culinary delights and spirited nightlife.
Overview
What to Expect from Your Live CME Course
Rigorous, Immersive Experience
This course will not only equip you with essential skills and knowledge in humanitarian medicine but also offer a first-hand experience in providing health services in remote rural communities.
Interactive Lectures in the Jungle
Engaging lectures on a variety of pertinent subjects will be delivered by seasoned professionals, with topics spanning cultural competency, disease management in resource-limited settings, clinical deployment strategies, pharmacy and supplies management in mobile clinics, and medico-legal aspects of mission work.
Field Clinical Deployments to Remote Areas
Participants will have the opportunity to apply their learned skills in two field deployments, where they will provide healthcare services alongside the Floating Doctors team to communities in Playa Lorenzo and Playa Verde.
Hands-on Practice
This course offers hands-on sessions focused on essential clinical skills, such as suturing, neonatal resuscitation, patient examination, and ultrasound usage.
Focused Study Areas
In-depth lectures and study sessions will be conducted on subjects like maternal health, geriatrics and palliative care, pediatrics, parasites, orthopedics, musculoskeletal issues, respiratory and cardiology issues, surgery in resource-limited settings, and envenomation.
Comprehensive Review
A variety of discussions and learning activities will help consolidate understanding and encourage active engagement with the course material
to equip participants with a rounded understanding of humanitarian medicine.
Sample Weekly Itinerary
Get a feel for your clinical deployment and lecture series with this sample itinerary.
*Note, this is a general itinerary of an average week for a participant coming from the U.S. Exact order of days, lectures order, and schedule and destination of deployments will vary based on a variety of factors influencing the Floating Doctors clinic schedule.
Empty space, drag to resize
Empty space, drag to resize
Day 01 | Sunday | Arrival and Orientation
Floating Doctors Basecamp
5:00 PM:
Meet the RemoteCare Education and Floating Doctors Staff in Bocas Del Toro for transport to the Floating Doctors base (room assignment & facility tour on arrival)


6:00–7:00 PM:
Dinner


7:00–8:00 PM
New Volunteer Orientation, Clinic Orientation, and Provider Orientation
Empty space, drag to resize
Empty space, drag to resize
Day 02 | Monday | Classes
7:00-8:00 am
Breakfast

8:00-9:00 am
Free time / Floating Doctors loads and deploys

9:30-10:30 am
Lecture: Cultural Competency

10:30-11:00 am
Break

11:00-12:00 pm
Lecture: Diarrheal Disease in Resource-Limited Settings

12:00-1:30 pmLunch and free time

1:30-2:30 pm
Lecture: Running A Successful Clinical Deployment
2:30-3:00 pm
Break


3:00-4:00 pm
Lecture Mobile Clinic Pharmacy & Supplies


4:00-6:00 pm
Free time


6:00-7:00 pm
Dinner


7:00-8:00 pm
Lecture: Medico-Legal Aspects of Mission Work
Empty space, drag to resize
Empty space, drag to resize
Day 03 | Tuesday | Clinical Deployment #1 (Playa Lorenzo)
Floating Doctors boat pick up
6:00–7:00 am
Breakfast
7:30 am-5:30 pm
Deploy by boat to Playa Lorenzo, join FD team onsite for a day of clinical work


6:00 pm
Dinner


7:00 - 8:30 pm
Ultrasound Training Session: 15 minute lecture & 75 minute hands-on practice session
Empty space, drag to resize
Empty space, drag to resize
Day 04 | Wednesday | Clinical Deployment #2 (Playa Verde)
Helping people in remote communities
6:30-7:00 am
Breakfast

7:30 am-5:30 pm
Deploy by boat to Playa Verde, join the FD team onsite for a day of clinical work

6:00 pm
Dinner


7:00-8:00 pm
Lecture: Geriatrics & Palliative Care


Empty space, drag to resize
Empty space, drag to resize
Day 05 | Thursday | Classes
Maternal Health lecture with Isobel
8:00-9:00 am

Breakfast


9:00-10:00 am
Lecture: Maternal Health


10:00-10:30 am
Break

10:30-11:30 am
Lecture: Births in Resource-Limited Settings


11:30 am-1:00pm
Break and Lunch


1:00-3:00 pm
Clinical skill practical sessions (suturing, neonatal resuscitation, practical management plans, asucultation and clinical exam masterclass)

3:30-4:30 pm
Lecture: Pediatrics I & II

4:30-6:00 pm
Free time

6:00-7:00 pm
Dinner

7:00-8:00
Lecture: Parasites
Empty space, drag to resize
Empty space, drag to resize
Day 06 | Friday | Classes
8:00–9:00 am
Breakfast
8:30–9:00 am
Optional FD Friday Fun 'Charla' (weekly discussion chat)


9:00–10:00 am
Lecture: Orthopedics & Musculoskeletal Issues


10:00–10:30 am
Break


10:30–11:30 am
Lecture: Respiratory & Cardiology


11:30–1:00 pm
Break & Lunch


1:00–2:00 pm
Lecture: Surgery in Resource-Limited Settings


2:00-3:00 pm
Lecture: Envenomation


**3:00 -6:00 pm
Free time / Optional Guided Jungle Preserve Tour/ Optional Boat to Bocastown


6:00-7:00 pm
Dinner


**A boat provided by RemoteCare will be provided at 3:30 PM and 6:30 PM for anyone wanting to go into town early or at least for dinner, and a boat back from town at 9:00 pm will be available for anyone choosing to spend Friday night on base.
Empty space, drag to resize
Empty space, drag to resize
Day 07 | Saturday | Departure
Early Morning
Morning boats to town provided by RemoteCare coordinated around departure times for participants with early flights

10:00 am
Regularly scheduled boats to town begin

Noon
All participants checked out of Floating Doctors basecamp
Empty space, drag to resize
Frequently asked questions
Do you have missions that are less than a week?
In partnership with Floating Doctors, we insist on a minimum commitment for the full course itinerary, from Sunday evening to Friday afternoon.
Can I stay in Bocas Del Toro for longer than a week?
Floating Doctors is always searching for volunteers who are interested in longer commitments. If you wish to coordinate Floating Doctors volunteer time after the Orientation to International Aid Work CME Trip is finished, you may do so by scheduling and registering directly with Floating Doctors for the dates you are available. Please keep in mind, extended volunteering requires separate costs that are not included in the RemoteCare Education CME cost. For extended positions, Floating Doctors offers Fellowship positions for most leadership roles on site
(click here for more info).
Is there an age limit for participants?
While we have no required age to register, we recommend that participants are at least 18 years old. Participants under 18 are welcomed by Floating Doctors as long as they attend with a parent or legal guardian.
I'm a medical student - can I still attend?
Absolutely! One of our highest priorities is getting young medical providers proficient in the skills we teach so that you can spend your career putting into practice what you learn during your time in the course and with Floating Doctors. There are also some medical schools that already recognize our training and may offer credit for completing our courses. If you are interested, we would be happy to discuss it with both you and your school administrator.
I don't have a medical license but have a few first-responder certifications - can I still attend?
Yes! While most of our participants are physicians, many range in prior skill and experience from first responders to Nurse Practitioners and Physician Assistants as well. The course is designed to provide solid medical foundational knowledge that is presented in effective ways for many educational backgrounds.
I'm a working parent - is it possible to bring my family along?
We understand that it can be hard to get away for a full week without your family, so we have programmed this course with the solution in mind! We encourage you to bring your partner or kids (over the age of 10) to Panama when you come. For an additional fee, paid directly to the Floating Doctors, they can stay with you on base, participate, help alongside you in clinic, and during the time you are in lecture, we can help coordinate additional adventures and excursions for your family to local beaches, nature preserves, snorkeling, fishing, cultural exchanges, and great places to eat! We have years of experience in planning these experiences for our families and have secured great discounts on activities, restaurants, and even hotel stays (if families prefer to be off base.)
Contact us
for additional information on bringing your family along for an unforgettable and rewarding vacation!
Can I still attend if I speak little to no Spanish?
Many Floating Doctors staff and volunteers speak Spanish and translators are provided for clinical deployments and other administrative intake to ensure participants and patients can communicate effectively.
How is the security in Bocas Del Toro?
Panama is one of the safest countries in Latin America for tourists, and Bocas del Toro is generally very safe and family friendly. RemoteCare Education and Floating Doctors are committed to promoting the safety and well being of all volunteers and course participants and while safety and security incidents are very rare in our community, general safety guidelines should be followed to help ensure you have a fun and safe experience.
What type of activities will I be responsible for during clinical deployments?
Participants will engage in all aspects of the deployment to develop complete context for the specific logistic needs and solutions of a successful, efficient mobile clinic. This will include preparing clinical field gear and the mobile pharmacy, setting up the clinic on arrival, and optionally rotating through different clinic stations: Medical Provider Station, Patient Intake station, Administration station, and Pharmacy station. If available, a Dental station will also be staffed and physicians will assist Floating Doctors dentists with extractions and other dental care. Veterinary stations may also be present, and providers may assist Floating Doctors veterinarians with animal care and owner education.
Rotation through all stations promotes understanding of mobile medical clinic needs and all participants will receive one-on-one support from Floating Doctors medical and logistic leadership during the clinic.
Do I have to stay with Floating Doctors?
Generally, all participants must stay at the Floating Doctors headquarters. Occasionally, there are extenuating circumstances that may make it difficult for volunteers to stay on base. If you believe you will not be able to stay with Floating Doctors, please contact us to confirm that this is possible before registering.
Are accommodation and meals provided?
The course cost covers accommodation at the Floating Doctors base and all meals Sunday through Friday. The FD kitchen is managed by chefs from our neighboring community, and they are justifiably proud of the meals they create.
Will I have internet access?
Floating Doctors has internet access at the volunteer headquarters. There is rarely access to the internet while in the communities where we work. There are many restaurants in town with Wi-Fi (free with purchase) as well. Additionally, wireless internet service is also available to purchase (called a Claro Stick) via a USB stick and service. These are about $75 initially, plus monthly data usage, and available at pharmacies in town.
It depends on your nationality. Citizens of most countries DO NOT need a visa to enter Panama because their countries hold treaties with Panama that entitle their citizens to visit for up to 180 days without a visa. For more information, please
click here.
Created with